There have been a lot of these flying about, which I have been reading and I can't be the only nosey person in this entire universe, so I thought I'd share with you my current routine for all things skincare, haircare and generally girly! So, let's begin! And if you've done one, please comment and show me where it is, so I can continue my nosiness. Yus.
So, let's start with my stuff in the shower. Keepin' it clean, obvs. I am still loving and using my Bed Head Some Like It Hot shampoo and conditioner. For those of you who haven't read in my previous posts, I suffer from eczema on my scalp, so have been using this for a while as it's sulphate free and I had read somewhere that sulphates can aggravate skin, so I've been giving this a good ol' go for a fair few months. And I'm still on my first bottles of each and I wrote about these shampoos in like, October! Very girly, so the boyfriend doesn't steal them too often as well. Bonus!
After this, I rough towel dry my hair and chuck in some Bed Head Ego Boost leave in conditioner to keep it nice and soft and with an attempt to look after my ends!
If I fancy straightening my hair (which has become somewhat of a rarity since I've been growing it…), I will spray it with some Tresemme heat protectant spray, in another half arsed attempt to look after my ends. Mmmm, protectant.
I wash my hair every few days – it never really gets greasy, so I'm quite lucky. That probably means I should wash it fewer times, so that the natural oils can get working… Once a week, usually on a Sunday evening after work, I'll use my Bed Head Treat Me Right hair mask and leave it in my hair for about 5 minutes. This is pepperminty and leaves my hair lovely and soft. I love the feeling of very freshly washed hair. HOWEVER. Last time I used my Bed Head hair mask (bearing in mind, I have been using this for YEARS!), it made my scalp weep, so I'm going to have to get a new hair mask – any recommendations, please let me know, but I think it was because I had coloured my hair a couple of days before, so my skin was extra sensitive! Bore.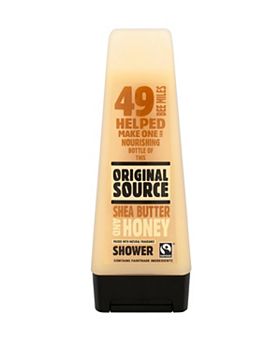 The shower gel I'm using at the moment is this tasty Honey and Shea Butter one from Original Source collection. It's so yummy (and girly smelling, keeping Jay at bay from stealing it 🙂) and if they don't have this in stock, I'll use the Vanilla and Raspberries one. Nom nom nom.
When I get out of the shower, I use Johnson's baby oil as my moisturiser, applying it to wet skin and patting it dry. It's one of the nicest baby smelling things (you know, other than baby vom or poo…) and it leaves my skin so awesomely soft and amazing. It's also inexpensive, so I'm not breaking the bank every time I need to stock up, and it lasts for ages. If I need a top up moisturiser, I will steal Jay's Nivea intensive moisturiser to top it up, but this is extremely rare because the baby oil locks in up to 10 times more moisture! Awesome, eh!? Once a week, I will exfoliate my skin with an exfoliating glove and some shower gel, thus getting rid of dead skin cells. Yummy.
For my skincare, I'm still in love with my Body Shop seaweed collection, using the cleanser and toner and night time treatment. I have been using it for absolutely ages, but I think I might have to go and consult a Body Shop lady to ensure that I have two different types of collections for spring/summer and autumn/winter, so that my face gets a change!
For my moisturiser, I have been converted to a Superdrug Vitamin E one, which is so thick and creamy, and I even use this as a primer! I've been using it for a few weeks now and it's awesome! It's such a difference from the seaweed moisture cream, and I have really seen a difference after I've been swimming. Yay!
I think that you should put a specific eye lotion on your eyes as that skin is sooo completely different than the rest of your face. It's so much thinner than the rest of your face skin (and it's the part that ages the quickest!) so I use Body Shop cooling eye gel, which sinks into the skin nicely and I apply this every night before I go na-nights. I don't put it on during the day time, because else it looks like I've been crying… Ha.
Once a week (Sundays after work), I'll use my Body Shop Blue Corn Deep Cleansing mask, leaving it on my face for about 15 minutes before washing it off with an exfoliating pad. It does double up as an exfoliator and it's obvs very imporant to exfoliate once a week to get rid of all those dead skin cells… I find that this in particular makes my skin look tonnes brighter for the week ahead 🙂
So that's it. I do recommend all of the products I use, else I wouldn't be using them, would I?! Well, apart from the Bed Head Treat Me Right one… I'm not so sure I should be using that anymore… Don't forget to put a link to your's, so I can be nosey and read what you guys have been using 🙂